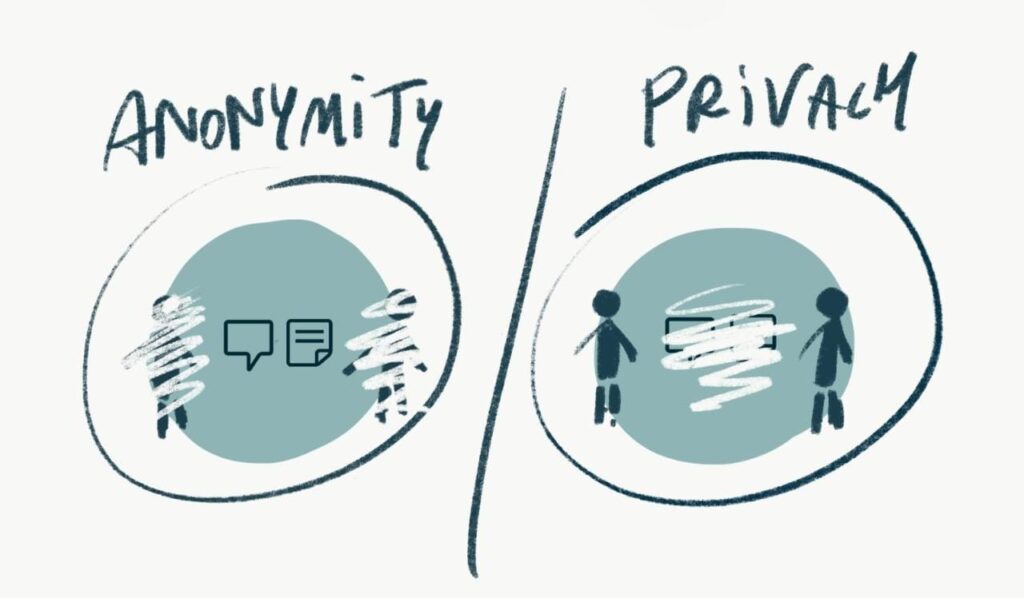 Privacy and Anonymity are two terms that are usually used interchangeably. However, the meaning of both these terms are completely different from each one. Let us try to understand how each term differs from one another, yet connected.  
Privacy  
Privacy in simple terms means an ability to keep certain information and/or communication exclusive to oneself and have control over who can access such information.  For example: Encryption is a security technique used on multiple social media platforms to ensure and maintain users' privacy by encrypting their private chats.  
In the year 1948, the United Nations declared 'Privacy' as a Human-Right, and since then till today, the relevance and importance of Privacy has only risen.  
This can be clearly seen in the Post-COVID era, multiple Nations have already introduced Privacy legislations, with an aim to widen the scope of data privacy rights of the citizens, governing the flow of data inside the economy and framing guidelines on the cross-border transfers. One can surely say from the current trend of governments of different nations to digitalize their economy and heavily rely on AI & Data with an aim to boost the economy and become future-ready.
Anonymity 
The purpose of Anonymity on the other hand is to hide/conceal one's identity but not their corresponding actions. In cyber-space one can choose to be anonymous by creating a fake profile instead. Anonymity is an essential element of freedom of speech and can be seen in multiple jurisdictions. For example, anonymity has played a vital role in whistleblower movements. However, the same is not defined in any statute nor recognized by any judicial precedence.  
 Anonymity is still seen as a grey zone for regulators and has not been explored yet, as the same poses multiple threats to the security and sovereignty of the nations.  
Security 
The purpose of Privacy and Anonymity is to enhance the security of the users during their time spent online. With Privacy, the identity is not masked, but the user's activity is kept private and encrypted. Whereas, in case of Anonymity, the identity is masked but the user's activity is open for public access. 
Both serve various purposes, and are vital in a democracy. Privacy is a celebrated Human-Right and the same could be seen as part of the Constitutions of multiple countries. However, when it comes to Anonymity, there has been a lot of opposition from the law-makers in various jurisdictions. 
The road to Privacy seems clear and focused with more regulations being drafted and sent out for public consultations. The path of user Anonymity is still unclear as to whether governments and law-makers would want to dismantle that space or not; with many such questions unanswered, only creating dialogues on these concerns will unravel these unexplored questions and areas.
Major Privacy Updates of the Week
New York introduces sweeping child privacy bill
A law to protect children online has been presented in the New York state senate, and it may require social media corporations to take a number of safety measures. The bill prohibits data collection and digital advertising to children, forbids the creation of user profiles using information from educational products, creates a portal for parents and guardians to report emergencies, and requires companies to report the average amount of time kids spend using their products. The bill also mandates that websites that cater to minors use design elements that better safeguard minors from any kind of online threat. 
TikTok may face multi-million pound fine over 'failing to protect kid's privacy'
Due to a potential violation of UK data protection laws by failing to safeguard children's privacy when using the site, TikTok could be subject to a £27 million fine. The social media platform has received a notice of intent from the Information Commissioner's Office (ICO), a legal document that comes before a possible fine. TikTok was found to have fallen short in protecting children's privacy when using the video-sharing platform, according to an investigation. Without parental permission, the corporation may have processed special category data and data pertaining to children under the age of 13 "without the legal basis to do so." 
Govt's Swachh City platform hacked, data of 1.6 crore users compromised
Researchers in cyber security have discovered that the swachh.city platform, a project of the Swachh Bharat Mission in collaboration with the Ministry of Housing and Urban Affairs, has been compromised by hackers, potentially putting the "critical information" of nearly 1.6 crore (about 16 million) users at risk. Researchers were able to determine the affected users' registered email addresses, password hashes, registered phone numbers, transmitted OTP information, login IPs, unique user tokens, and browser fingerprint information from the data sample that was made public by the threat actor known as LeakBase, who shared a database to support his claim on the Dark Web. 
American Airlines discloses data breach after phishing scam in employee email
American Airlines confirmed unauthorized access to its email system is behind a July breach of personal information affecting 1,708 people. When people reported receiving phishing emails from an American employee's account and illegal activity was found in the company's Microsoft 365 environment, the airline discovered the breach on July 5. Names, Social Security numbers, employee numbers, dates of birth, mailing addresses, phone numbers, email addresses, driver's license numbers, and passport numbers may have been among the data the threat actor had access to. 
Server of an Indian Healthcare provider exposes covid results and PII of 1.7 million people
Online leaks of Covid antigen results and other personally identifiable information (PII) of 1.7 million citizens and foreign people have been occurring from the unprotected database of an Indian healthcare software supplier. As they searched for misconfigured databases on Shodan, security researchers came across the leaking server. Over 23 GB of PII, including medical records from people who travelled to or from India during the Covid-19 outbreak, were discovered by the researcher. 
Curated by: Prajwala D Dinesh, Ritwik Tiwari, Ayush Sahay
WEEKLY PRIVACY NEWSLETTER
Keep up to pace with this high-impact weekly privacy newsletter that
features significant data privacy updates, trends, and tools that can
help to make your life secure & easier every day!
*By clicking on subscribe, I agree to receive communications from Tsaaro